Applies to: BAPIC, SCAPTP
If your Matching Organization hosts its Agency Directory on PracticumFit.com, you can browse the profiles of all Training Sites and search for Sites which match certain criteria in the profile information.
Students: If you are a Student User, either using a personal account or a general Directory Viewer login, your view of the directory will be filtered to only include Sites and Tracks that your school has approved for you to apply to, and will show all information that has been approved for student viewers to view.
Administrators: If you are the Admin of a Site, School, or the Matching Organization as a whole, your directory view shows all sites and all parts of the Agency Profile.
Accessing the Directory
Access the Directory Browse and Search by clicking the menu option titled 'Directory' in the top bar.
If no search parameters have been entered, all sites you are allowed to view are shown below the search parameters box.
Directory Search
To narrow your list of displayed sites, use the 'Search Key' dropdown to select a Profile Question you'd like to filter by. Then select the answer you wish to filter for.

In the above example, we are creating a filter to only see sites located in the North Bay region. After you create your search parameter, hit the + button to activate it. It will appear in the box on the right marked "Current Search Parameters."
You can filter for as many Parameters as you wish. To add a new parameter, use the box on the left. To remove a parameter from your filter, click the - button next to the filter you wish to remove on the left.
All Search Parameters are combined, so in the above example, you will only see Agencies located in the North Bay which include Mandarin as a Client Language.
Directory Profile View
When you click on a Site name to view its Profile, it will open in a new browser tab, so you can return to your search on the original page.
On the Directory Profile page which opens, you will see:
The Site Name
The Tracks Available, filtered for Students to only those Tracks they are approved to apply to
All Schools which have an affiliation with this Site
The Agency's Full Profile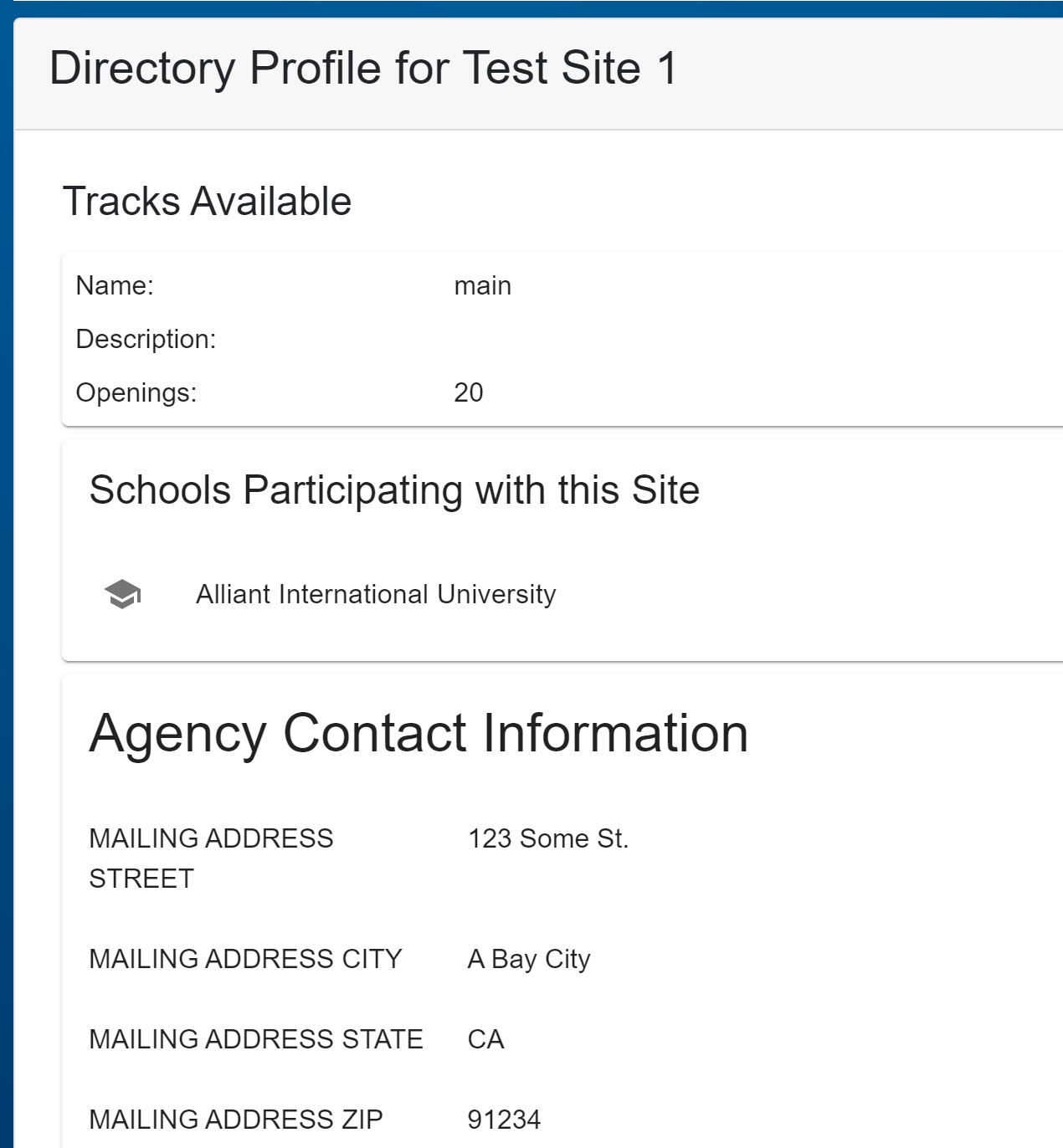 If you are a student and cannot see a training site that you are expecting to in the directory, contact your school's Director of Training and confirm with them that they have approved a relationship between your Program and at least one Track at that Site on the PracticumFit platform.